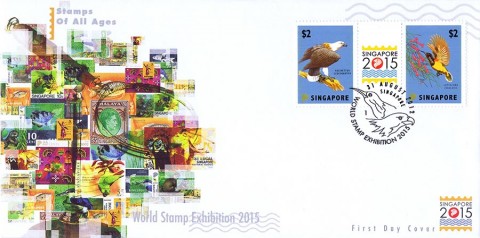 To commemorate Singapore's golden jubilee in 2015, the Association of Singapore Philatelists has won the bid to host the World Stamp Exhibition here. Four sets of stamps featuring designs from previous years will be issued each year leading up to 2015. They include Queen Elizabeth II Definitives (1955), Fishes, Orchids and Birds Definitives (1962-1966), National Day (1960) and Osaka Expo (1970). These stamps have been selected to revive the memories of collectors and to showcase Singapore's progress and developments over the years.
The first series released on 31 August 2012 feature two designs from the Fishes, Orchids and Birds Definitives (1962-1966).
The Yellow-breasted Sunbird (Leptocoma jugularis) is commonly seen near Singapore's shorelines. When taking off, this sunbird produces a chipping sound made by knocking two pebbles. Attracted to red flowers in particular, it is depicted in front a firecracker plant (Russelia juncea) on the stamp.
The White-bellied Sea Eagle is also often spotted around the coastal areas and on offshore islands. It can also be seen hovering the skies in circles at Labrador Park. To feed on crabs, these eagles drop the crabs from a height onto rocks in order to break their hard shells.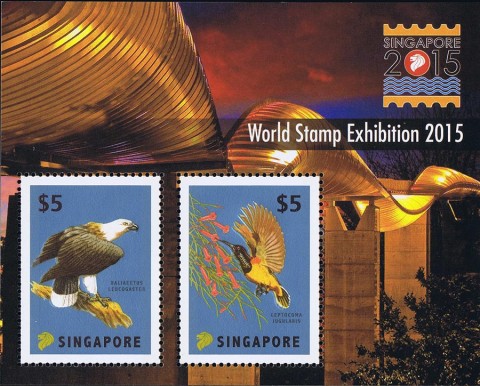 The collectors' sheet containing two $5 stamps is sold for $12.80. The stamps feature the same design as their $2 counterparts.
Denomination: 2 designs of $2
Miniature Sheet: 2 designs of $2
Stamp size: 29.5 mm by 39.5 mm
Miniature sheet size: 102 mm by 81 mm
Perforation: 13
Sheet content: 10
Designer: Chan Willie