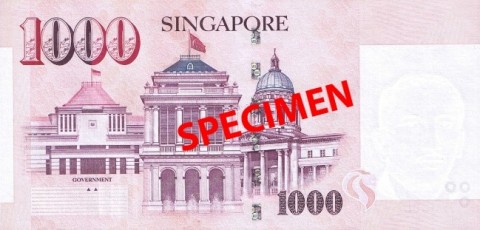 Recently, small triangles have appeared on the reverse of the $1000 Singapore banknote, in addition to the square dots spotted on other denominations. This security feature was added in early 2009, but its purpose is not revealed to the public. The two triangles are found below the word 'Government' on the reverse. Today, many collectors are still puzzled about the presence of such symbols.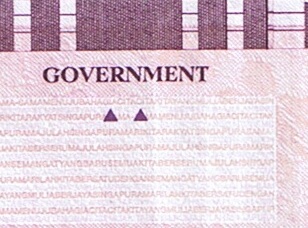 As mentioned in our previous article, 'there may be other shapes, such as circles, stars or triangles'. My hypothesis remains as such: The symbols represent the year of printing. In January 2009, $10 notes with one square dot appeared in circulation. In October 2009, there were $10 notes with two square dots, $100 notes with one or two square dots and $1000 notes with one square dot. In December 2009, $50 notes with one square dot appeared. In January 2010, $2 notes with two square dots are commonly seen. In February 2010, $1000 notes with two square dots are found circulating.
Based on the above, one square dot may represent the year 2008, two square dots 2009 and two triangles 2010. This is just a guess!
The first prefix for the new $1000 note, signed by Senior Minister Goh Chok Tong, Chairman of the Monetary Authority of Singapore, is 2AA.
Scans provided by Vincent Tan.