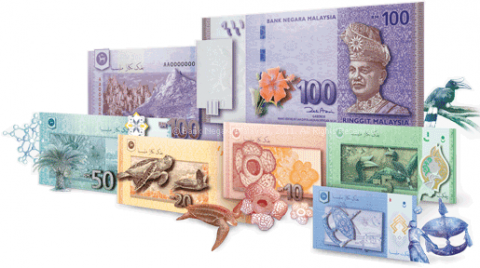 Bank Negara Malaysia has announced that the new Malaysian banknotes series will be introduced into circulation from 16 July 2012, replacing the current series that has been in circulation for over ten years. Themed 'Distinctively Malaysia', the banknotes feature intricate illustrations of the nation's culture and traditions. In this series, the RM 2 banknote was no longer issued, while a new RM 20 banknote was included in the line-up.
The fourth series of Malaysian banknotes consists of six denominations, including RM 1 (Traditional Pastimes: Wau Bulan), RM 5 (Wildlife: Rhinoceros Hornbill), RM 10 (Flora: Rafflesia Azlanii), RM 20 (Marine Life: Hawksbill, Leatherback Turtle), RM 50 (Agriculture and Technology: Oil Palm, Biotechnology) and RM 100 (Natural Wonders: Mount Kinabalu, Gunung Api Valley).
The obverses of the banknotes retain the portrait of the first Seri Paduka Baginda Yang di-Pertuan Agong, Tuanku Abdul Rahman ibni Tuanku Muhammad. In addition, other common motifs on the banknotes include Malaysia's national flower (Rosa-sinensis hibiscus) and patterns of traditional songket weaving in the background.
The smaller denominations of banknotes (RM 1, RM 5) are more commonly used in day-to-day transactions and printed on polymer to increase their level of durability. The larger denominations remain printed on paper.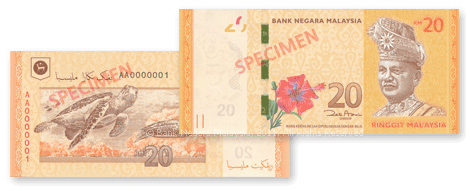 Incorporating modern printing technology and security features, the fourth series of Malaysian banknotes contains a pixel watermark portrait with highlight numeral, as well as the use of micro lens thread and iridescent patch. Existing security features which are retained in the fourth series include perfect registration, multicolour latent image, intaglio printing, microprinting, colour shifting security thread, holographic stripes and UV elements.
Bank Negara Malaysia has also released a commemorative folder containing the fourth series of Malaysian banknotes on 22 December 2011. The complete set, limited to 50,000 sets and priced at RM 300, consists of six banknotes of the same serial number. Currently, low serial numbers – AA0001500 and below – have not been observed, except for AA0000001 which is used throughout BNM's website. Two smaller folders, one containing the RM 20 banknote (sold for RM 30) and another containing the RM 1 and RM 5 banknotes (sold for RM 15) were also available, with a more generous supply of 500,000 sets.
If you have been to Malaysia in the past few years, you would have already noticed the new RM 50 note in circulation. This banknote was first introduced in December 2007 to commemorate Malaysia's 50th Anniversary of Independence. The first 50 million pieces (AA0000001 to AE9999999) of the note is overprinted with the logo of the 50th Anniversary of Independence on the reverse, including 20,000 sets sold in a limited edition folder. A number of these overprinted notes continue to exist in circulation alongside those which does not contain the overprint (AF0000001 onwards). The new RM 50 banknotes released in December 2011 have 3-letter prefixes (AAA0000001 to AAA0050000).
Image: Bank Negara Malaysia Website