Takes a break from the live satellite broadcast of the opening ceremony
Recently, I have received a postcard from China featuring the postmark of the Expo 2010 Shanghai China. The logo represents the Chinese character 'shi', which is drawn to look like three people standing together with the year 2010 underneath.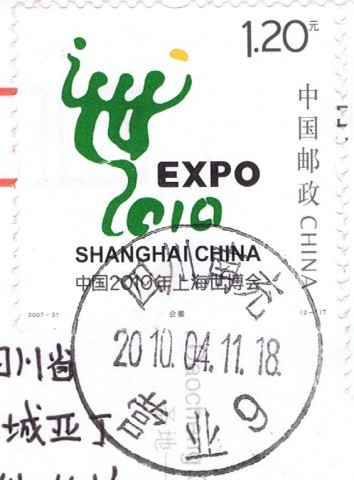 Commonly known as Expo 2010 or the Shanghai World Expo, this exposition will be held in Shanghai, China, from 1 May to 31 October 2010. This is the most expensive expo in the history of the world's fairs and is also the largest fair site at 5.28 square kilometres. This expo would attract over 70 million visitors from all around the world. This year, over 190 countries is participating in the Shanghai World Expo.
Now, if you happen to be (or, going to be) part of the 70 million visitors, do help me obtain a small souvenir from the Shanghai World Expo! I would be able to obtain souvenirs for the 2010 Youth Olympic Games. Hopefully I would be able to pick up some limited edition items at the 99 Day Countdown next Friday.
Continues watching the live telecast of the opening ceremony