In conjunction with the new Second Series of Malaysian banknotes on 16 July 2012, Pos Malaysia has released a set of stamps featuring the new coins and banknotes. Eight 60 sen stamps show the obverse and reverse of the new coins, while the six denominations of banknotes are depicted on the RM 5 stamps, in two separate pieces containing three miniature sheets each.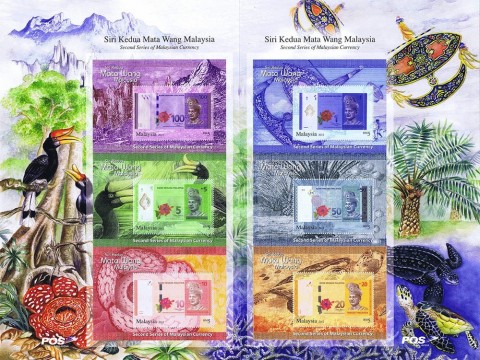 This is a very special set of stamp in terms of design. Firstly, it is printed with hot stamp foiling on most stamps. In addition, the 60 sen stamps featuring the coins are hexagonal in shape, complete with embossing to bring out the intricate details on the coin.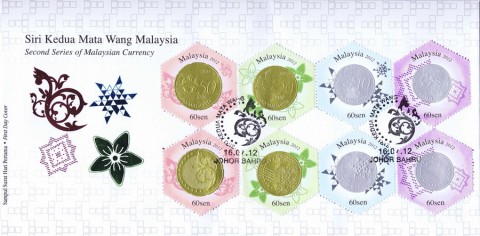 The RM 5 stamps featuring the banknotes contain silver foil hot stamping to carefully represent the security thread on the notes, including that of the RM 50 note.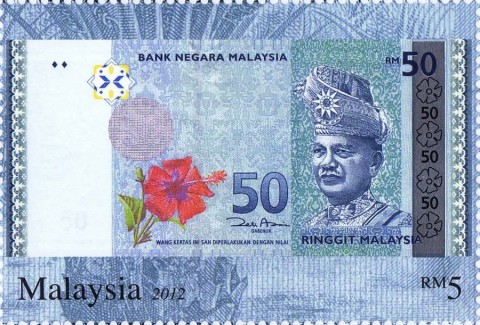 These new notes are to replace the previous series that has been in circulation for over ten years. The coins have also been released into general circulation earlier in the year. Banknotes can be exchanged over the counter at most major banks in Malaysia.
Denomination: 8 designs of 60 sen
Miniature Sheet: 6 designs of RM 5
Stamp size: 35 mm by 40 mm, hexagon
Miniature sheet size: 100 mm by 70 mm
Stamp in Miniature Sheet: 60 mm by 40 mm
Perforation: 14
Sheet content: 20
Designer: Reign Associates Sdn Bhd