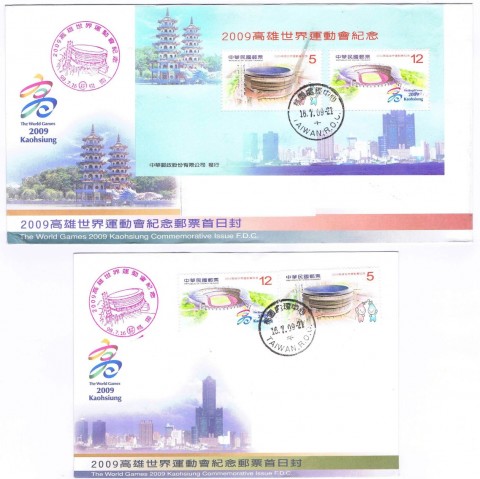 One of my collector friends has kindly asked another of his friend to send first day covers from the World Games 2009 held in Kaohsiung, Taiwan. This set of stamp issued on 16 July 2009 is printed on phosphorescent stamp paper. 
The 8th World Games is now being held in Kaohsiung from 16 July 2009 to 26 July 2009. In order to commemorate this grand sporting event, the Chunghwa Post has issued this set of two stamps (mintage 1.2 million each) and a souvenir sheet (mintage 0.9 million) featuring the Kaohsiung Arena (NT$5) and the Main Stadium for the World Games (NT$12). 
The Kaohsiung Arena is a modernistic gym equipped with standard Olympic facilities, making it a great venue for basketball and volleyball games as well as 200-meter races in indoor track and field. On the lower right of the stamp are the mascots of the World Games 2009 Kaohsiung: Kao Mei and Syong Ge. Dressed in red and blue respectively, these water spirit babies have a water drop for a head. Their bodies will light up after absorbing solar energy with the little spheres on their heads. The design reflects a concern for international issues such as green energy and environmental protection.
The Main Stadium for the World Games was built to the standards of the International Association of Athletics Federations Class I certified international sports stadium. The open-air design does away with the need for air conditioning. This avant-garde architecture will be the venue for the opening and closing ceremonies of the World Games 2009 Kaohsiung. On the lower right of the stamp is the games' logo: a stylized Chinese character Kao (as in Kaohsiung), written in a colorful and rhythmic flowing ribbon, resembling the beautiful shapes of athletes in competition. The design aims to convey the concepts of harmony, friendship, rhythm, flight, progress and joy.
Also, it is really interesting to learn that there are two different sized covers issued for one issue!