Send a postcard and receive a postcard back from a random person somewhere in the world. That is the tagline for the Postcrossing project. Their website was launched in July 2005 to allow members to send and receive physical postcards from different parts of the world. Countries with the highest amount of Postcrossers include the United States, Finland, China, and Germany. Today, there over 2.4 million postcards have been exchanged in 196 different countries. 
I have received the first postcard from Finland by a person residing in Sweden on a vacation yesterday, and this is just four days after my first postcard arrived at its destination. That was only thirteen days after registering for an account. The postcard shows a beautiful countryhouse in Finland by the calm lake. Designed by Päivi Vainionpää, the stamp shows the sun going down. A fresh birch whisk sits in the bucket on the jetty, where soft towels await the bathers. When the stamps are rubbed, the microscopic scent capsules release an aroma of birch leaves.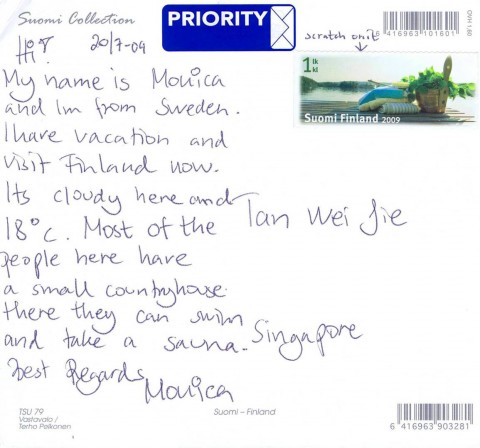 Anybody with an address can easily sign up for a free account via the website, but the user has to bear the cost of the postcards and postage stamps. First, members can request to send a postcard via the website. The website will randomly pick and display the address of another Postcrosser and a Postcard ID. When the recipient receives the postcard, he or she registers it using the Postcard ID, and is then eligible to receive another postcard from another Postcrosser. Each member can have up to 5 postcards travelling at any single time, but this quota increases as more postcards are sent. 
In Singapore, there are close to 1000 registered users. However, there seems to be a lack of variety in terms of postcard designs here. Browsing through the gallery, many of the postcards uploaded are similar, or even identical. It took me quite some time before I found a shop in Chinatown selling postcards, as the number of shops selling picture postcards decline rapidly in the information technology age. 
View my profile on Postcrossing (twj)