'It is still early, let's just wait,' the father replied, as he continued to arrange the items. I took a look at the time on my mobile phone. That was when I realised that it was not early anymore. I should be heading towards the Botanic Gardens. The stamp launch starts in a few minutes. I started to make my way to bus stop.
After taking bus service 174 from a distant bus stop opposite Clarke Quay MRT station, I alighted at the bus stop in front of the Botanic Gardens. Since the Tanglin Gate was not open, although another gate right next to it is open, the stamp launch is probably held at the Visitor Centre.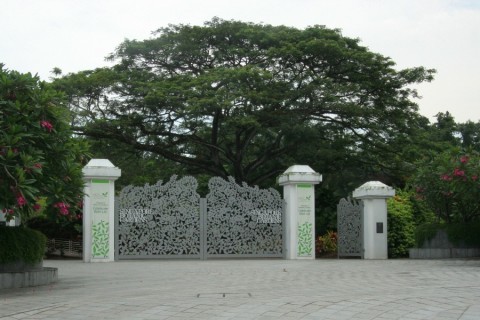 I walked along Cluny Road, passing by a row of bungalows and the unknowingly, the location of the stamp launch. One of them even had six luxury cars parked in it. As it was quarter to eleven, heat from the sun became more intense. The pedestrian walkway was paved with leaves, not fallen ones, but those that are green in colour.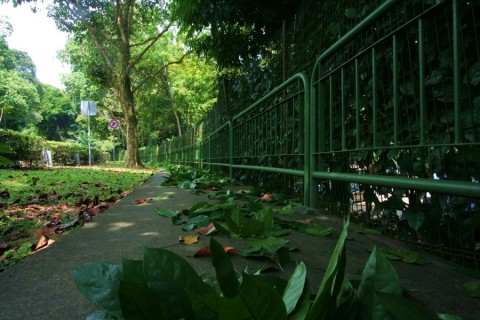 Shortly after spotting this sign which assured me that I was on the right track, I arrived at Nassim Gate and headed towards the Visitor Centre.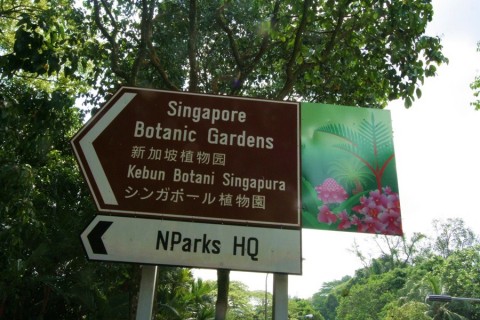 10:55 am.
I looked around the main entrance. There was a cafeteria called where my secondary school principal was enjoying a cup of coffee. There was a restaurant called Casa Verde Restaurant next to it. There was a souvenir shop called the Botanic Garden Shop which sells magnets with the word 'Singapore' on almost every piece. There was water feature with fishes swimming in it, probably there is no name for it. However, there was no stamp launch anywhere in my sight. I decided to walk into the souvenir shop, thinking that the stamp launch may be inside, which obviously was not. I started to panic, thinking that the stamp launch could be over, and started walking towards the visitor services counter for help.