Upon hearing that I was going for the stamp launch, the staff handed me a map of the Botanic Gardens which unfolded to an A2 sheet. 'The stamp launch is at Green Pavilion. Just walk straight, turn left, turn right, turn left, blah, blah, blah, and you will arrive at the Green Pavilion.'
Wait, wasn't that where I came from? Due to the massive size of the Botanic Gardens, it took me quite some time to reach my destination. While I was walking towards the Green Pavilion, I passed by various notable landmarks.
At Palm Valley, children were enjoying themselves in activities such as catching and bubble-blowing. Their parents were engaging in their own activities: viewing the scenery while sitting on benches and taking photographs of their children.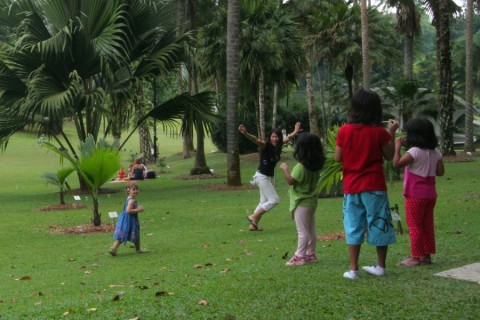 Then, I arrived at a junction named Orchid Plaza. At this junction, there were a few food and beverage outlets selling burgers, chips and other finger food at touristy prices. Even though I was very thirsty, I did not get any drinks since the queue was quite long and I had to get to the Green Pavilion as quickly as possible. Forgetting that I had a map, I got distracted by the food and took the wrong path leading to a gate leading out of the Botanic Gardens.
I headed back to the junction. Luckily, the second path which I chose was the correct one. On the way there, I walked past a few sculptures with seemingly analogous names such as 'Girl on Bicycle', 'Girl on a Swing', and 'Lady on Hammock'. There is also a 'Swing Me Mama' sculpture at another corner. Other attractions included the Vanda Miss Joaquim and the Bandstand.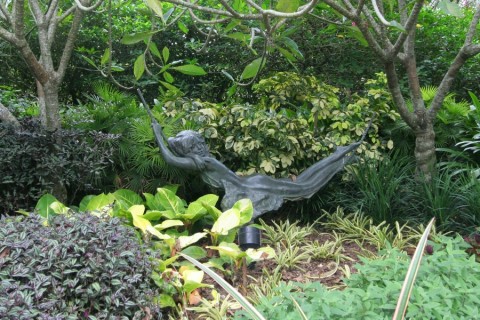 Two Men on Bicycles zoomed past me. They were not sculptures, but were 'NParks Contractor on Duty'. Walking under the hot sun, I wished that I had a bicycle too! At the Swiss Granite Fountain, a lady (she's not a sculpture either) was sitting still on a stool in the shade, sketching a scene of several kids splashing with water around.
After close to half an hour of walking (and taking photographs), I finally arrived at the launch, but wait.
Am I at the right place? Why is it so empty?