On 2 December 2011, Singapore Post released the 2011 annual collection of stamps featuring the various philatelic issues throughout the year in a colourful coffee-table book.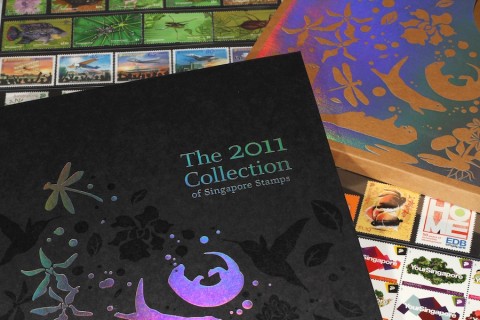 Featured stamps include Singapore's longest individual stamp in a joint issue with Egypt, Singapore's largest individual stamp, Spirit of Giving, and Eric Kong's latest definitive issue coated with reflective ink, showcasing Pond Life. It also commemorates international events such as the World Orchid Conference 2011.
The book comes with two stock cards containing a total of 60 pieces of mint stamps and two miniature sheets.
Every purchase comes with a limited edition story book entitled Little Otters to the Rescue!. It features four little otters on a rescue mission to save their father. This A4-sized children's book is written by SingPost's Stamp Ambassador, Edmund Chen Zhi Cai. Earlier this year, he illustrated a set of stamps featuring the oriental small-clawed otter. An autograph session was held on 2 December at Singapore Post Centre.
From 2 to 31 December 2011, The 2011 Collection of Singapore Stamps is available at all post offices for S$66.90 (US$52). The usual price is S$72.90.