A new variety of Singapore's 10-dollar note was released in January 2012, carrying the symbol of one diamond on the reverse (above the word Sports). The first prefix for this variety is likely to be 4BA. For previous varieties of the $10 polymer banknotes, the first observed prefixes were 2BA and 3BA respectively. This is due to the fact that 2AA and 3AA were one of the prefixes used in the 2004 version.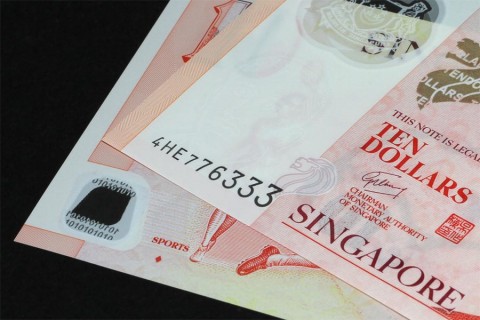 The notes were available at some branches, while other branches carried the previous $10 note variety with two triangles. A few weeks ago, the $1000 note with one diamond was found in circulation.
Symbols printed on the reverse of the notes were introduced back in 2008 as a new security feature used for authentication purposes by MAS. Despite the lack of information, a different symbol was used for each batch of notes. Based on the observations from the serial number, the symbols may either represent the print run number or the year of printing. It is also understood that there may be other symbols used, including circles and stars.
Most denominations showed the same pattern in the sequence of symbols. The earliest batches of such notes contained no symbol. From 2008, banknotes were first imprinted with one square, followed by two squares, one triangle, two triangles and one diamond.
This variety still carries the signature of then Chairman of the Monetary Authority of Singapore, Goh Chok Tong. On 21 May 2011, Deputy Prime Minister Tharman Shanmugaratnam was appointed the new Chairman of the Monetary Authority of Singapore.