On 8 February 2012, Singapore Post issued a set of stamps featuring local tea time snacks. Designed by Mr Sherman Lim, the stamps show a colourful illustration of the Lapis Sagu (1st local), Kueh Dadar (50 cents), Bao (80 cents) and Kueh Tutu ($1.10). These snacks are personified and drawn in a cartoonish manner. In Singapore, it is not uncommon to see people enjoying food outside the usual hours of lunch and dinner.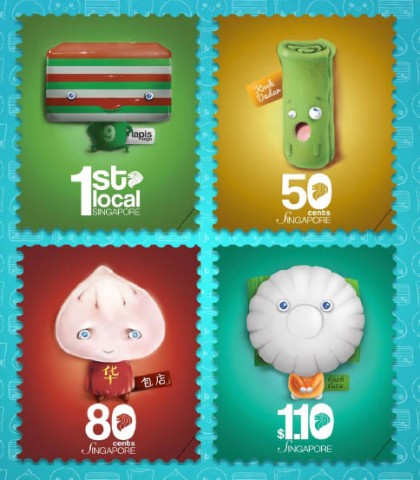 The Lapis Sagu, commonly known as the nine-layered kueh, is made from coconut milk, tapioca flour and boiled with pandan leaves. The rectangular shaped snack is found in a number of confectioneries, and it is definitely something unique to eat it layer by layer.
The Kueh Dadar is a bite-sized coconut pancake. Stir-fried grated coconut flesh and brown sugar are wrapped with a green skin that is made of sifted plain flour with pandan juice.
The Bao is a type of steamed Chinese bun with assorted fillings, including meat, vegetables or paste. There are also different sizes to choose from. Traditionally, it has been a common dish in most Chinese cultures, but now it can be enjoyed at any time of the day.
The Kueh Tutu is a traditional snack which is commonly found in Singapore. A soft outer layer made of rice flour or glutinous rice flour conceals either shredded coconut or ground nuts as its filling. It is often served on pandan leaves and is certainly available at night markets.
Stamp Size: 30 mm x 40 mm
Perforation: 13.33 x 13.33
Printer: Southern Colour Print
Designer: Sherman Lim
Images by Singapore Post
Text adapted from Singapore Post