This is a guest post by Imogen Reed from London, UK. 
Collecting banknotes is a multi-faceted hobby. Not only are banknotes aesthetically attractive, rich in history, and in a world of  balance transfer offers, internet transactions and debit and credit cards, banknotes are becoming a rarity in modern life. Some argue their days are numbered, but there's no need for the modern notaphilist to worry. With such a rich history and a wide variety of notes from around the world still in existence, there will always be enough banknotes to sate the modern collector.
The great thing about banknote collecting is the richness and variety of the different banknotes around the world, and the surprises that collecting banknotes can throw up. Most people think banknotes are just printed paper, but they couldn't be more wrong. There's so much more that goes into a banknote than just paper and ink, and there are so many different ways banknotes are produced. And it is these different production techniques that can generate some unique banknotes – banknotes with errors.
Banknotes with an error on them are even more desirable to many collectors, and often more valuable too. While banknote producers have very strict quality controls that look for any mistakes, normal human error can lead to a few slipping pass the beady eyes of the inspectors. A banknote with some form of error on it can be a highly prized collector's item, and even a modern note printed with a minor error will be worth far more than its face value, so it's worth checking even mundane notes for potential signs of a mistake.
Printing
Errors normally occur during the printing process. Banknotes are printed in various ways, and these different methods can throw up different types of errors. Early banknotes were printed using rather crude wooden rollers. These were blocks of wood with parts cut away to produce the image. Because wood is soft and easily splinters, it is common on early banknotes to see missing parts of an image. While few of these early type banknotes exist, and regardless of errors, are highly prized, if you do come across an early wooden rolled note, look at it carefully as it may be more unique than you may think.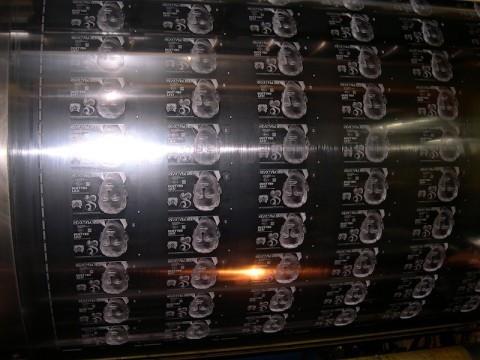 Image Source: Monetary Authority of Singapore (MAS)
Lithography was the next big step in banknote production. Lithography is the use of chemical to repel oil and water. Banknotes printed using these methods were created by plates covered by an ink repellent liquid. The printer applies the ink with a roller but the liquid on the plates repels it. The most common error caused by lithography is when the printer has failed to line up the roller and plates properly. Sometimes, banknotes produced by lithography have images that slightly leak over the side of the note or are not straight on the paper.
Intaglio engraving is still widely used today. The notes are produced by plates with designs engraved on them. Ink is poured over the plates and then wiped off, leaving ink just in the engraved areas. This often creates a more three-dimensional, embossed appearance and feel to the note and an indented reverse side. Errors are less common in engraved banknotes because the process is more refined. However, the serial numbers often have errors in them, as the numbers have to be changed between the printing of each note. As most banknotes normally have serial numbers on both the front and back, it is not uncommon to find one either missing or not matching.
Security Features
Besides serial numbers, errors can be found in the various other security methods employed on different banknotes. Watermarked paper is the most common security feature besides serial numbers used in banknote production, past and present. A watermark is the adding of a design on the paper, which is only visible when the banknote is held up to the light. As these designs are added after the initial printing process, a potential error is seeing a reverse or upside down watermark. These become highly desirable to collectors and are a great find if you can spot one. Of course, you do need to know the correct way the image should be originally.
The security strip is also another common security feature inserted into banknotes. This is normally inserted when the paper is being produced and cut, and it can go missing in certain cases. It is, however, possible for unscrupulous banknote dealers to remove security strips, but threaded strips can't be removed and if these are missing the note can be quite a collector's item. Of course, you need to make sure any banknote without a security strip is not a forgery, which is often the case.