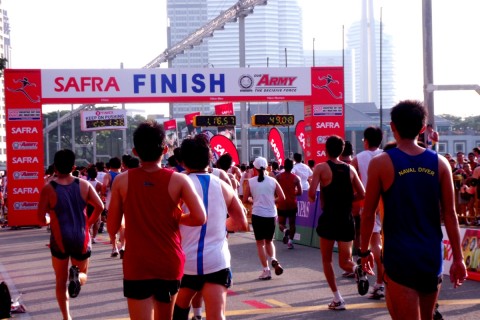 The annual Safra Singapore Bay Run & Army Half Marathon 2009 was held early this morning. The 21-kilometre run started on the Esplanade Bridge under the night sky, passing by Fullerton Hotel. We then proceeded up the Benjamin Sheares Bridge at 20 metres in height, passing by landmarks such as the Singapore Flyer and the Floating Platform, before entering East Coast Park. A 50-metre stretch along the East Coast Park was shrouded in darkness, with the path lit up by light sticks. After making a right turn to Mountbatten Road, where runners found themselves running alongside the morning traffic, the sky became brighter. The next straight stretch was along Nicoll Highway, but after making a turn into Republic Avenue, we had to run twice below an underpass at the 17-kilometre mark. The last four kilometers was along the F1 track and across Anderson Bridge. The run ended at the Padang, where runners collected their finisher medals and participated in the carnival.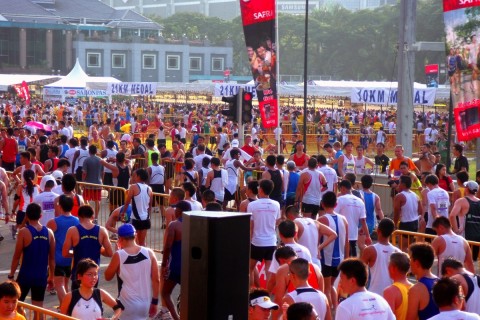 This is the second time I have came to the Padang in a week. On Friday evening, I attended the One Year Countdown to the 2010 Singapore Youth Olympic Games as mentioned in this article.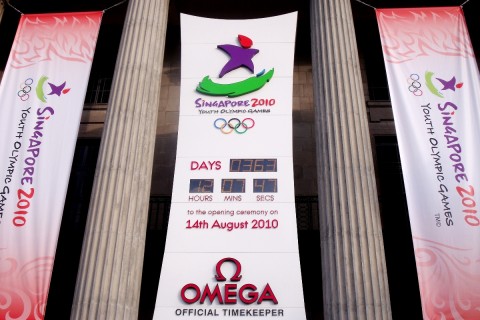 The Youth Olympic Games Countdown Clock greets runners as they cross the finishing line.