When one forgets to insert a CashCard (or one with insufficient stored value) into the In-Vehicle Unit (IU) when driving through an Electronic Road Pricing (ERP) gantry, he or she will be charged an administration fee of $10, to be payable within 24 hours, on top of the amount payable for the original ERP charges.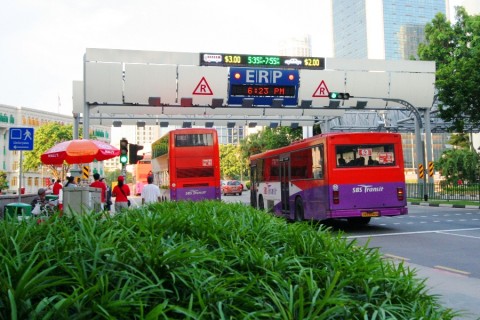 Similarly, when one forgets to affix a postage stamp (or affixed an insufficient amount) on the envelope when sending a letter, the recipient of the letter will be charged an administration fee of $1, to be payable immediately when someone comes knocking on the door at his apartment located in Bras Basah, shouting, 'Postman!'
Holding up the letter, he said, 'Meant for you. Can you verify if this is your address? The sender forgot to affix a postage stamp on the letter, so I am collecting the fine from you. It would be $1.25 according to this Postage Due Label.'
The recipient pays the fine, closes the door, picks up his mobile phone and calls the sender.
'You send me that letter, forget to put stamp! Just now, a while ago, the postman knocked on my door and asked me to pay a fine.'
The sender replies, 'I am so sorry, I must have forgotten about it and dropped it into the posting box. I will go over to your place and compensate you the amount, how much is it?'
'Never mind about that, it is $1.25 only. When you come over, you pay for ERP charges. If you forget your CashCard, you pay a fine. When you park your car downstairs, you pay for parking fees. If you forget to display a parking coupon, you also pay a fine. This car park is famous for parking wardens appearing many times a day.'
'Okay, when we meet in future, I will treat you lunch at The Restaurant.'
However, when one forgets to write the recipient's address, writes it incorrectly or if the recipient rejects the letter, it will be returned to the sender with the postage due label, as well as many other labels and markings, seven of them in total for the envelope below.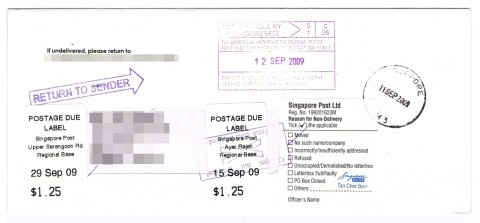 If the recipient lives in another part of Singapore as marked out by the delivery zones, there will be more labels pasted on the envelope when the letter is returned to the sender. There seven delivery bases are located in Ayer Rajah, Bukit Panjang, Jurong, Kallang, Loyang, Upper Serangoon Road and Woodlands.
'Knock, knock!'
'Who's there?'
'Postman!'
'Postman who?'
'Psst… Meant for you. Can you verify if this is your address? You forgot to affix a postage stamp on the letter, so I am collecting the fine from you. It would be $1.25 according to this Postage Due Label.'