The four stamps below were issued in 1978 with a value of 10 cents each, showcasing selected national monuments: Armenian Church, Hajjah Fatimah Mosque, Sri Mariamman Temple and Thian Hock Keng Temple. All national monuments featured on this set of stamps were gazetted on 6 July 1973.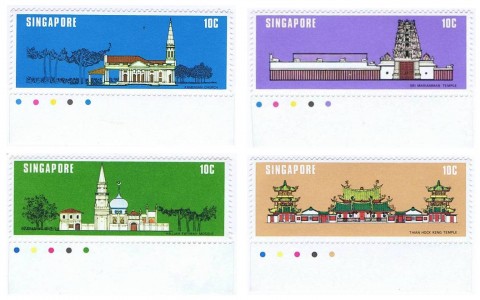 Armenian Church
60 Hill Street, Singapore 179366
Built in a British neo-classical style, the Armenian Church is the oldest Christian church in Singapore. This church was one of the exhibition sites used during the inaugural Singapore Biennale in 2006.
Hajjah Fatimah Mosque
4001 Beach Road, Singapore 199584
Hajjah Fatimah Mosque was designed by colonial architect John Turnball Thomson and was completed in 1846. The design was based on a mixture of local Islamic and European architecture.
Sri Mariamman Temple
244 South Bridge Road, Singapore 058793
Being the oldest Hindu temple in Singapore, it has rich historical and architectural value and is a tourist attraction in Singapore. The main feature of the temple is its gopuram (the entrance tower).
Thian Hock Keng Temple
158 Telok Ayer Street, Singapore 068613
Thian Hock Keng Temple is one of the oldest and most important Hokkien temple in Singapore built in 1839. Chinese immigrants visit the temple to thank the Goddess of the Sea for their safe voyage.