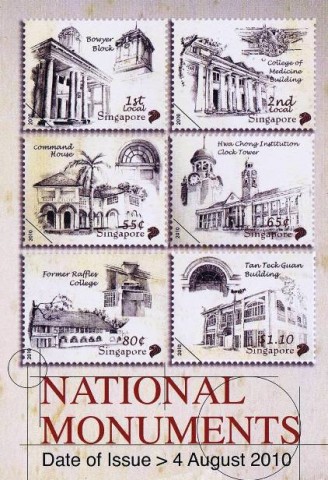 The National Day stamp issue for this year will be released early on Wednesday, 4 August 2010. Six monuments will be featured this time, the third of the National Monuments series. The designer for this issue is Leo Teck Chong. He was also the designer for the recently issued Starfish postage prepaid envelope.
The six national monuments include the Bowyer Block (1st Local), College of Medicine Building (2nd Local), Command House (55c), the Hwa Chong Institution Clock Tower (65c), the former Raffles College campus (80c) and the Tan Teck Guan Building ($1.10). These six monuments are also found on the $2 miniature sheet, featuring the architectural links between Singapore's past and present built heritage.
To commemorate National Day, the NDP 2010 Logo will be featured as the datestamp.
The theme for last year's National Day stamp issue was Sculptures, where the masterpieces of seven sculptors are featured.