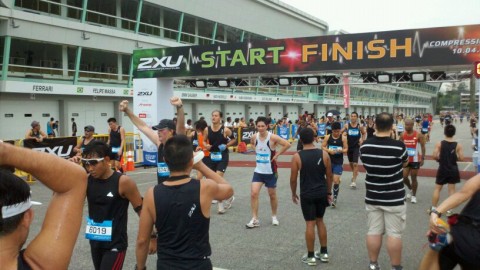 The 2XU Compression Run 2011 was held on 10 April in Singapore's Central Business District. The 12-kilometre run brought participants to places such as the Esplanade and Marina Bay Sands. The race was flagged off at the F1 track next to the Singapore Flyer at 6:55 am.
Participants first headed north towards Republic Avenue and into Kallang Road, making a turn into Kallang Riverside Park at the 3-kilometre mark and back to the Singapore Flyer. Up next was a right turn to the Floating Platform and subsequently the Esplanade. Yes, the bright red Merlion Hotel was also spotted along the route. This is followed by a left turn into Marina Boulevard and towards the Marina Bay Sands integrated resort.
Before realising it, there was a flight of steps ahead leading up to the Helix Bridge. At the 10-kilometre mark under the Helix Bridge, participants were running in both directions along a narrow path – and with a number of them cutting across to the other lane – for an entire kilometre. This left many runners on the return route to run across a rough path filled with pebbles. The race officials should have used barricades instead of orange cones.
There were a total of six water points along the route. Despite the slight drizzle midway through the run, participants continued running towards the finish point, which was at the Singapore Flyer. My timing for this run was approximately 1:01.