On 13 April 2011, Singapore Post released the low value definitive stamps for the 'Pond Life' series. This series aims to showcase the detailed and vivid images of various pond creatures, which is said to 'give a glimpse beneath the water's surface of life on a pond'. There are a total of ten denominations in today's stamp issue.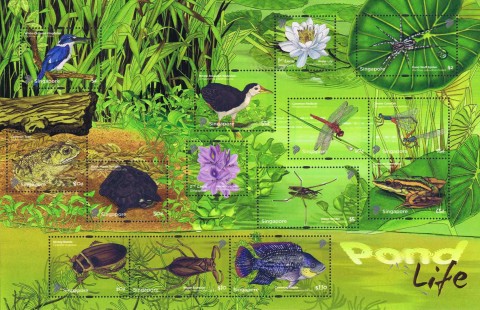 Two plants – the water lily and water hyacinth – were featured on the 1st Local and 2nd Local denominations respectively. The water lily has round leaves and fragrant flowers that lasted only for a few days, while the water hyacinth with lavender to pink coloured flowers with six petals is often found in water catchment areas.
Other creatures featured include the white-collared kingfisher (5c), diving beetle (20c), common redbolt (30c), ornate coraltail (45c), black marsh terrapin (50c), white-breasted waterhen (55c), common greenback (65c) and common toad (80c).
This issue was designed by Eric Kong, and was printed by rotogravure. If you were to pick up these stamps, you would find that the drawings of the flowers and animals printed on them are coated with a shiny coat of reflective ink. For this issue, note the slight variation in the perforation at the top and bottom edges.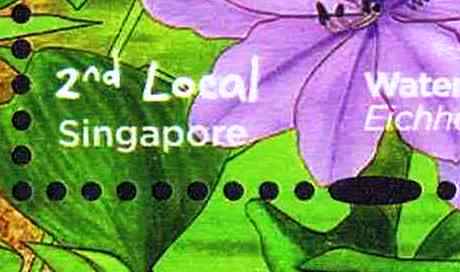 One design defect would be that the denomination is printed in a small fanciful font at the bottom corner of the stamp, which may unintentionally inconvenience users. I might say that the value of the stamp is rather tiny and unobvious, especially when it is white in colour. If you happen to get hold of one of these stamps sometime soon, do take a look. The mark for the first issue '2011A' is printed in black, at the bottom right corner of the stamp. Now that's even smaller, collectors may soon be using a magnifying lens to detect any new reprints.
Two months back on 16 February, a set of high-value definitive stamps on Pond Life were released. They include the common tilapia ($1.10), pond wolf spider ($2), water skaters ($5) and water scorpion ($10).