Following the article on UV Fluorescent security features on banknotes, people have asked on where to purchase a cheap ultraviolet light source. Shops which sell aquarium products and magic supplies often carry ultraviolet lamps, but be warned that they do not come cheap. A small one can set you back by at least $20, and the cost of a professional-grade aquarium lamp can lie somewhere in the mid-hundreds.
As a high level of brightness is not required for banknote analysis (unless you intend to use it for your fish tank or card trick), we are introducing you two places where you can purchase a cheap UV torch in Singapore. These sources of ultraviolet light, or black light, are often sold in the form of a battery-operated invisible ink pen, with some as cheap as a dollar each.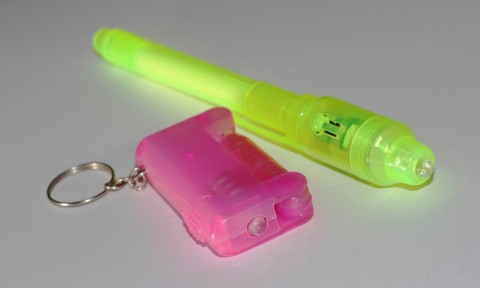 From back: Magic Light Pen ($2), Invisible Magic Pen ($1)
You can purchase a relatively bright Magic Light Pen from Daiso at $2. It is available in yellow, blue and pink, as far as I am aware. The ultraviolet pen is found in the stationery department and its product code is D-37, No. 299. As this product may not be in stock at times, you are encouraged to visit the larger outlets at IMM or Plaza Singapura or give them a ring to check its availability.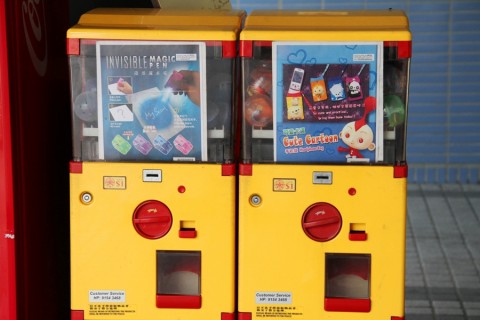 Alternatively, toy capsule vending machines across the island carry the Invisible Magic Pen. One of them is located next to the provision shop at Outram Park MRT, Exit B. The one-dollar product comes in the form of a keychain. While it is smaller in size, the light source appears to be a tad dimmer. As the products in these vending machines are rotated frequently, call the customer service hotline if you need to locate one.
When you feel somewhat bored at times, use the pen to write an invisible message!