This is the last of a three-part series featuring the 'Know 10 Trees' maximum cards.
Another tree which was featured among the three maximum cards was the pink-flowered Trumpet Tree, together with the Rain Tree and the Yellow Flame. Printed on A5 cardstock, these colourful maximum cards are affixed with a matching 1st Local stamp from the  'Know 10 Trees' issue released on 26 May 2010.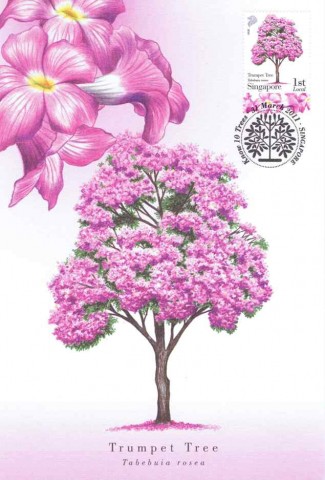 The Trumpet Tree (Tabebuia rosea) originates from South America and is often planted for its shady crown. The deciduous tree can be up to 30 metres tall, and has large, trumpet-shaped flowers which comes in a pink-white tint. In Singapore, flowering usually occurs twice a year after a dry spell, around April and August. The flowers then develop into fruits with elongated pods, which subsequently split open to release winged seeds.
Graphics by Singapore Post
Text adapted from Singapore Post