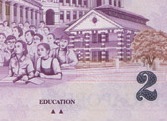 In a recent auction by Mavin International on 23 July 2011, the Singapore $2 note with two triangles was revealed. However, this variety is only available as an uncut sheet of three. Each uncut sheet contains prefixes 4EQ/4FQ/4GQ or 4HK/4JK/4KK.
The banknote still bears the signature of the previous Chairman of MAS, Emeritus Senior Minister Goh Chok Tong, instead of the current Chairman, Deputy Prime Minister Tharman Shanmugaratnam. It suggests that the note was printed before the appointment date of 21 May 2011. Banknotes signed by the latter will be expected as early as January 2012.
Also, the Singapore $5 note with one square was available as an uncut sheet of three at the auction. These notes had a prefix of 3AA. The Monetary Authority of Singapore (MAS) has often made such uncut sheets available through auction only.
Courtesy of Vincent Tan