Today, Singapore Post released a set of four stamps to celebrate 46 years of independence for Singapore. This stamp issue features two residential neighbourhoods Joo Chiat and Taman Jurong – the transformation from the past ($1.10) to the present (50 cents).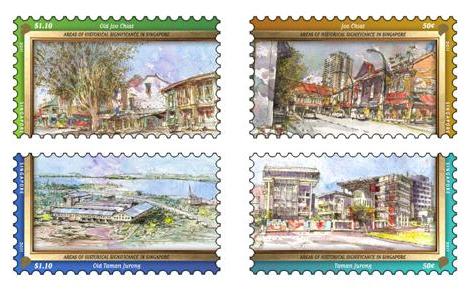 Joo Chiat is a residential conservation area situated between Marine Parade and Geylang in the eastern coastal region of Singapore. Up to 1917, the area was known as Confederate Estate Road, until it was renamed after Chew Joo Chiat (1857 – 1926), a major land owner there. In July 1993, Joo Chiat was gazetted as a conservation district, resulting in the preservation of many of its old buildings. Today, the shophouses and bungalows in Joo Chiat still retain the typical architectural styles of the early 20th century. In February 2011, it was announced to be the first Heritage Town, a project by the National Heritage Board to promote community ownership of heritage.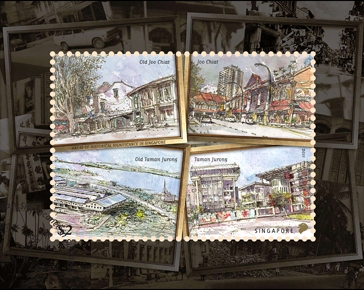 Taman Jurong is one of the oldest residential precincts in Singapore. From a sleepy rural area mainly consisting of coastal swamplands fed by many small rivers meandering through the mangroves, jungles and wasteland, it has grown into a developed suburban area today. Taman Jurong was at the heart of industrial growth in the 1960s, providing housing for workers and simple entertainment opportunities. It also led to the development of today's tourist attractions such as the Chinese Gardens and Japanese Gardens, and Jurong Bird Park.
Text and Graphics: Singapore Post