So, where is the best place to shop for souvenirs in Singapore? Believe it or not, some locals do not know where to begin. If you are a local and would like to send some souvenirs overseas, you may wish to find a place which gives you the best value for your Singapore dollar. If you are a tourist in Singapore, you may wish to know where you can get different types of souvenirs, especially if you promised to bring home some Merlion plush toys. When you return from an overseas trip, people around you will start to ask what you brought back for them. Surprise your friends and family by bringing back something which is uniquely Singapore.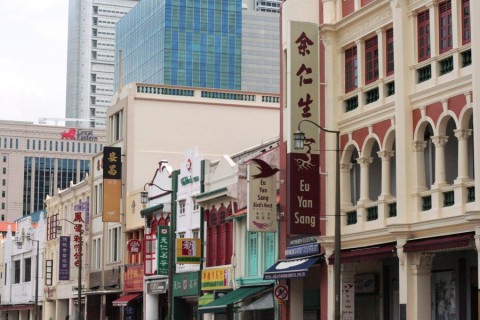 My favourite place to shop for a souvenir from Singapore is Chinatown. There are many stalls selling small items such as postcards, key chains and magnets, printed with the word Singapore on it. Generally speaking, Chinatown is a good place to shop for souvenirs if you would like to find a wide variety of items to choose from, or if you are running low on budget. If sending overseas, it is important for the item to be as light as possible (such as keychains). If you enjoy collecting traditional items such as inflatable balls, five stones or handmade quilts, you may wish to visit the Chinatown Heritage Centre. Get your name painted in Chinese characters by approaching one of the many artists found in the area.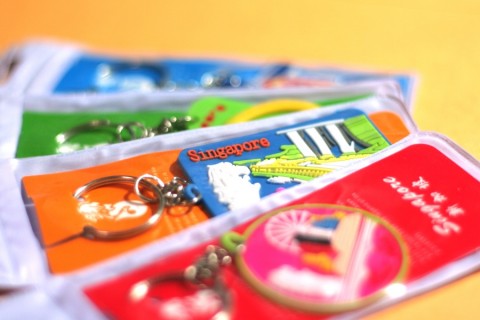 Another place to shop for souvenirs in Singapore is Suntec City, especially if you are looking for a gold plated collar pin or a pair of earrings in the shape of the Vanda Miss Joaqium, the national flower of Singapore. In addition, you can find photo frames at some of the shops in one of Singapore's largest shopping centres. If you like chocolate, grab a box of Merlion chocolates and share with your family. Due to the higher rental costs for these shops, be prepared to spend more money for these souvenirs. If you are lucky, you can purchase handmade Peranakan gifts such as bead art and porcelain.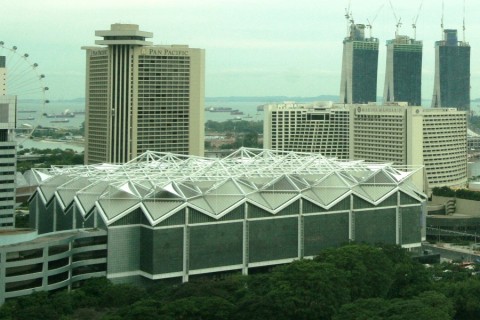 Bugis is also a good place to shop for cheap souvenirs in Singapore. Although the items are slightly more expensive than at Chinatown, there is a better chance at bargaining for a lower price when shopping in Bugis. Bugis Street is usually crowded on weekends. If you would like to commemorate your trip to Singapore by shopping for souvenirs, this is a place which is not to be missed. You can also purchase some of the 'Singapore is a Fine City' T-shirts here!
If these are not what you are looking for, there will be more places to shop for souvenirs in the next post. Meanwhile, continue filling up your luggage with gifts which you can pick up everywhere around Singapore.