It's Hari Raya Haji today, one of the festivals celebrated by the Malay population in the multiracial and multicultural island of Singapore. Definitely, festivals are something which should be featured on postage stamps, especially to foster good relationship among different cultures and races in Singapore.
On 20 October 2010, a set of eight stamps were issued by Singapore Post, including four 1st Local stamps and four 55 cents stamps. Designed by Tze Ngan, these stamps are also available as a collectors' sheet with all stamps foiled.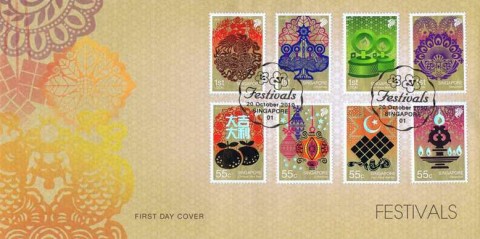 From left to right, the first pair of stamps features the Chinese New Year, which is the most important traditional Chinese festival. This is characterised by the generous use of red and gold in the design, the two colours which are seen as most auspicious during the festive period. A pair of mandarin oranges is featured on the 55c stamp, which symbolises fortune in the year ahead.
The next pair of stamps depicts Christmas. Celebrated by both Christians and non-Christians on 25 December each year, it commemorates the birth of Jesus Christ. In Singapore, this festival is generally associated with the sharing of gifts. During the month of December, colourful assorted decorations fill up the various shopping districts around Singapore.
The third pair of stamps decked in different tints of green marks Hari Raya Aidilfitri. This day marks the end of Ramadan, the month of fasting. On this day, the Muslims would wear their traditional costumes while visiting their relatives and friends. The 55c stamps shows the ketupat, a form of rice dumpling, which is commonly found in Southeast Asian countries.
The last two stamps illustrate the festival of Deepavali, commonly known as the Festival of Lights. In Singapore, this holiday is often celebrated by the Hindus and Sikhs, lighting several rows of clay lamps filled with oil, as shown on the 55c stamp. This is done to ward off evil and usher in the good. This day would also mark the start of a new financial year for most Indian businesses.