Later in the week, leaders of the Asia-Pacific Economic Cooperation (APEC) will meet in Singapore for a week-long forum. More than 10000 delegates from the 21 member countries, including ministers and leaders will be present, including United States President Barack Obama and Chinese President Hu Jintao.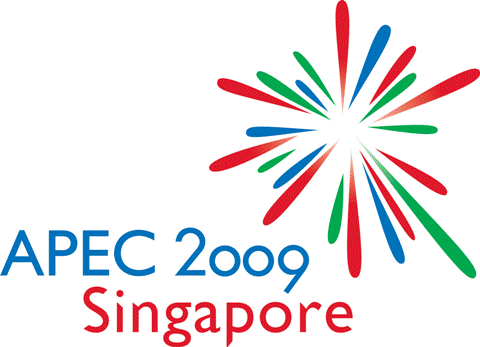 According to the APEC Singapore 2009 website, the logo depicts the 21 APEC economies coming together to convene at a single point, working towards unity, cooperation and synergy among member economies to advance common interests. The Spark, made up of 21 strokes, represents the 21 member economies, signifying the dynamism within the APEC community and a catalyst that inspires new ideas and initiatives to further the vision of APEC.
The 21 APEC members are Australia, Brunei, Canada, Chile, China, Hong Kong, Indonesia, Japan, Malaysia, Mexico, New Zealand, Papua New Guinea, Peru, the Philippines, Russia, Singapore, South Korea, Taiwan, Thailand, the United States and Vietnam.
In order to commemorate this event, SingPost is releasing a new stamp issue today, entitled 'APEC 2009 Meetings'. This set of four stamps, two gutter pairs of two stamps each, showcases different places in Singapore. The 1st Local stamp shows the skyscrapers of Singapore's Central Business District. On the 80c stamp, there is a picture of the night view of Clarke Quay, a riverside quay in Singapore. The $1.10 depicts Singapore as an aviation hub. Featured on the $2.00 stamp is one of the busiest ports in Singapore.