The boring wavy lines that print themselves on envelopes will take a short break. From 19 July 2010 to 30 September 2010, both dates inclusive, Singapore Post will be replacing these wavy lines with Youth Olympic Games slogan messages. This would apply to CFC machines C1 to C3 and FC machine C4.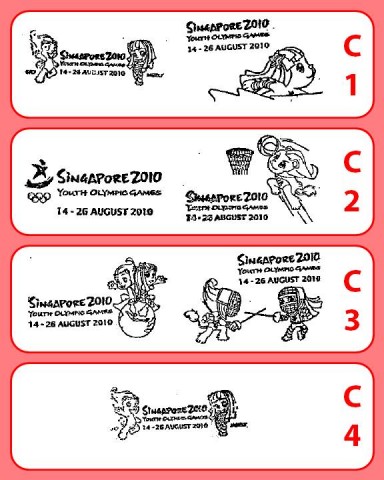 Sorting mail into these four machines would be a totally random process, so it would require lots of luck. To make it more challenging, machines C1 to C3 will have two different slogans each, intensifying the randomness, making it harder to obtain a complete collection.
As far as I am aware, a manual replacement of the slogan die is needed to switch between the two designs. So, here's a tip: Drop your envelopes into the post box on different dates, in different locations, to maximise your chances.
That does not mean that there are seven designs in total. The only slogan design for C4 is the same as one of the designs for C1. With the implementation of the five-day week mail collection, you can safely drop your envelope into the post box from this evening!