While clearing away some things from the back of my cupboard, I came across a torn corner of an envelope postmarked 7 January 2009. It was not the date that caught my eye, but it was the cancellation machine number C10.
(Yes, it's the classic story of finding treasures during spring cleaning.)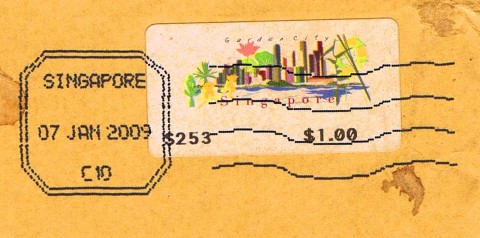 If you would take some time to observe the cancellations on recent mail items received, chances are that you would not be able to find one cancelled by the machine number C10. Supposedly, this cancellation machine is seldom used. Perhaps, it is only activated during festive seasons where a larger volume of mail is expected.
Unfortunately, this corner is somewhat stained by beverages and covered with a thin layer of dust. The bright white colour of the $1 machine printed label was also filled with dark spots. Well, at least the C10 mark can still be clearly seen! Just like the C8, the C10 cancellation machine is a dot matrix printer. However, the printed text appears to be slightly smaller.
Since the festive season is just around the corner, why not try your luck by sending some cards to your family and friends. Of course, if you have no idea who to send the cards to, you could always send one to me! Don't forget to write your own address at the back of the envelope.