Some may know that I am one who keeps at least a pen with me in my pocket, often complemented by a mechanical pencil. However, since it was the school holidays, my pen decided to take a break at home before it had to resume work again on the first day of school and to minimise contact with others to reduce the risk of contracting the Influenza A (H1N1-2009) virus. Furthermore, on this day, the number of cases in Singapore surged by a record high of 26 cases and shot past the 100 mark.
I tried asking around for a pen, and was very lucky that someone offered his fine marker, just the perfect instrument for autographs. After Mr Wong autographed the presentation pack and left, I proceeded with my initial mission of chopping. Similar to previous road shows, I will chop the first day cover with the S1 chop. It has already become a must for new stamp issues.
After the launch, I walked around the Botanic Gardens to breathe in some fresh air, and to take more photographs. Back at the Swiss Granite Fountain, the lady who was not a sculpture was still sitting still on a stool in the shade, sketching a scene of several kids splashing with water, although the kids are no longer there.
I proceeded to the famous Swan Lake, filled with beautiful white swans. This place does bring back memories. However, there are no black swans in the lake, as featured on the stamp below, even though I cannot remember if there were black swans back then.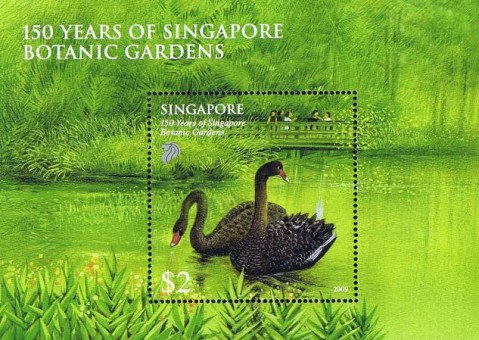 Since it was getting late, I left the Botanic Gardens to catch a bus home. It was a satisfying day with lots of interesting encounters. I got the autographs, took the photographs, and had so much to put into paragraphs.
This reporter got the autograph too!
The End