The stamp launch for the Singapore-Indonesia Joint Issue was held this morning at Club Islander, Sentosa, Singapore. The theme of this stamp issue is tourist attractions. For Singapore, the selected attractions are the Merlion (65c) and Sentosa ($1.10). For Indonesia, the featured attractions are Singa Ambara Raja Statue (1st local) and Taman Mini Indonesia Indah (80c).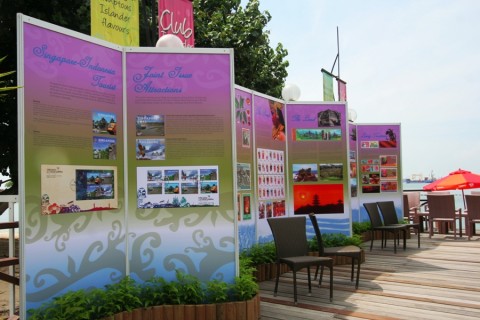 The Merlion is a symbol of Singapore with the head of a lion and the body of a fish, combining Temasek and Singapura, which means sea town and lion city respectively. Sentosa, which means peace and tranquillity in Malay, is an island resort in Singapore. The Singa Ambara Raja Statue shows a winged lion bolding a big corn in one of its front leg and is the landmark of Singaraja City in northern Bali. Taman Mini Indonesia Indah (or Beautiful Indonesian Miniature Park) is a park in eastern Jarkata where visitors can experience the rich culture and architecture.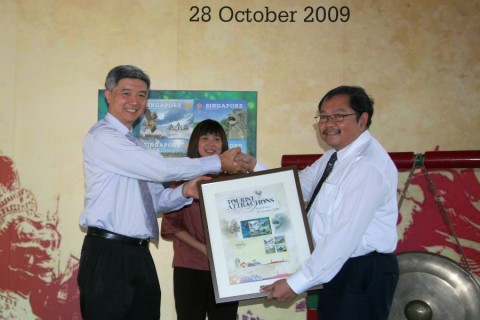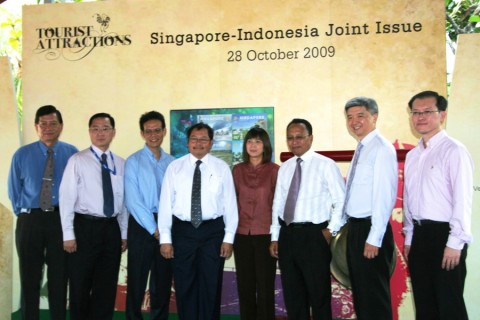 The stamp launch started at half past eleven, where guests were entertained with a cultural dance. Following which, the stamp was officially launched with the striking of a gong.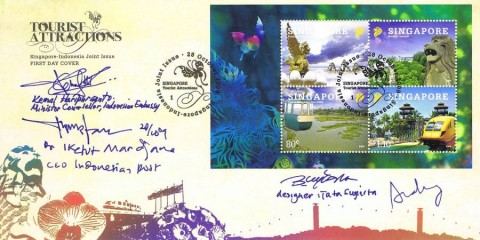 Anticlockwise from top: (1) Kemal Haripurwanto, Minister Counsellor, Indonesian Embassy, (2) I Ketut Mardjana, CEO, Indonesian Post, (3) Tata Sugiarta, Designer (PosKreatif, Indonesia), (4) Andy Koh Boon Peng, Designer (Singapore)