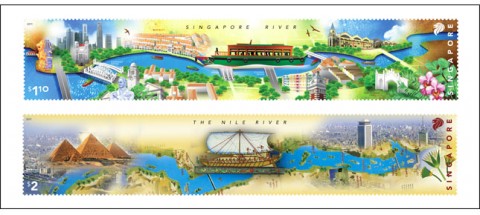 On 17 October 2011, Singapore Post launched a joint stamp issue to commemorate 45 years of diplomatic relations between Singapore and Egypt. The $1.10 stamp designed by Wong Wui Kong features a panoramic illustration of the Singapore River, while the $2 stamp designed by Amany Ahmed and Rasha El Zonkoly features The Nile River.
At 162 mm by 30 mm, this is likely to be the longest individual stamp issued by Singapore Post.
The Singapore River has great historical importance. In 1819, it was made the first trading port by Sir Stamford Raffles, and served as the main lifeline of Singapore then. Today, the Singapore River continues to play an important role as part of the Marina reservoir and a major tourist destination.
The Nile River is the longest river in the world, and has been the lifeline of ancient Egyptian civilisation. Most of its inhabitants and cultural and historical sites are situated along the river banks. Presently a major tourist attraction of Egypt, The Nile River is truly the heart of both ancient and modern Egypt.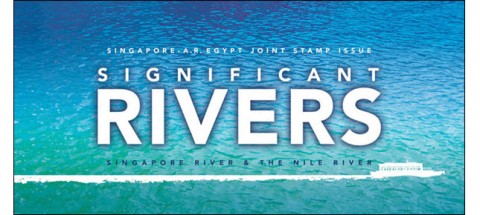 This issue has a wide range of philatelic products to look out for. The miniature sheet featuring both the S$1.10 and S$2 stamps is sold for $3.30. Also, the set-of-two commemorative covers ($6.70) featuring both stamps from Singapore and Egypt is definitely be limited in numbers, and is only be available today at all Singapore Post branches.
Update: The set-of-two commemorative covers will only be available in the next few days as the stamps have arrived from Egypt on Monday.
Text adapted from Singapore Post
Graphics by Singapore Post