Application for the second batch of $20 Singapore Bicentennial commemorative banknote is open from 16 September to 13 October 2019.
The Monetary Authority of Singapore (MAS) will be making another 2 million pieces of Singapore Bicentennial $20 notes available. Exchange can be made from 4 to 18 November 2019.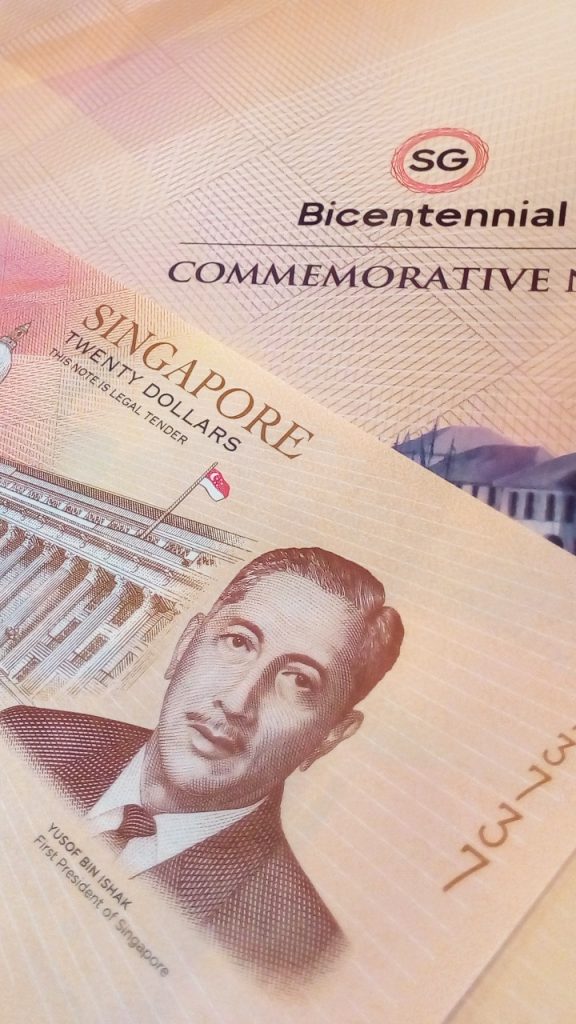 This additional batch of 2 million banknotes is printed to meet the popular demand during the original release on 10 June 2019. Back then, stocks at banks were depleted quickly within two to three days of issue.
This time, Singapore citizens and permanent residents can apply for up to 10 pieces of commemorative notes using their identification number and mobile number. Application can be made through an online portal launched by MAS which runs for four weeks until 13 October 2019.
The results of the application will be made by 3 November. Exchange can be made at the preferred bank branch that was selected during online application during a two-week period.
If there are any notes left over at the end of the exchange period, members of the public can exchange these notes without the need for any online application.
Allocation priority will be given to applicants who belong to the Pioneer Generation and Merdeka Generation – those born on or before 31 December 1959. But if demand is too high, MAS would be adjusting the number of notes allocated to individuals accordingly.
Applicants who have been successfully allocated the commemorative notes can get another person to exchange the notes on their behalf by providing a copy of their NRIC or birth certificate.
Prefixes and Serial Numbers
Update: As of 4 November 2019, four new prefixes AF, AG, AH and AJ were observed.
For the first batch of $20 Singapore Bicentennial notes, there are four circulation prefixes: AB, AC, AD and AE. Serial numbers as high as 83xxxx have been observed.
With up to 840,000 serial numbers for each of the four prefixes (or 3.36 million in total) there may be new prefixes observed for the second batch of Singapore Bicentennial notes. Similar to recent polymer banknote issues, serial numbers may be skipped during production, and there are no replacement serial numbers.
For the 3-in-1 uncut sheets, banknotes have serial numbers ranging from AA 801xxx to 832xxx. Larger uncut sheets of up to 32 may be made available in a future auction.
Symbol on Reverse?
Update: The second batch of $20 commemorative notes appear to be the same as the banknotes from the initial printing. There is no special symbol found on the reverse.
Another interesting feature to note is whether there will be a symbol found on the reverse of the commemorative banknote to indicate the second batch of printing.
Since 2009, MAS has been printing a small symbol at the back of the note, including the $1000 note which features the national anthem on its reverse.
The only circulation banknote from the Portrait Series which does not have the symbol is the discontinued $10000 note. Since the original issue on 9 September 1999, there was no subsequent reprint for the $10000 banknote.
For the SG50 commemorative notes issued in 2015, three different symbols were observed: one diamond and two diamonds for the $10 notes, and one star for the $50 note.
The $10 notes with two diamonds on the reverse have been printed on auctioned notes with special serial numbers, as well as a limited number of circulation notes for 3 of the 5 designs.
There was no symbol printed on the 2017 issue which commemorated 40 years of Currency Interchangeability Agreement (CIA40) between Singapore and Brunei Darussalam.
Online Application for Singapore Bicentennial $20 Notes
Application can be made through the MAS online portal.
Related Questions
What prefixes are used for the second print run? AF, AG, AH and AJ have been observed to date. However, some banks have been issuing banknotes from earlier prefixes (i.e. AB to AE) during the November collection period.
How can I tell if a banknote was from the additional print run? The prefixes for the serial number from the second print run are AF, AG, AH and AJ. If your banknote has these prefixes, then it's from the additional 2 million pieces printed. Apart from this, banknotes from both batches appear to be the same.