Singapore hosts the 20th World Orchid Conference (20WOC) from 13 to 20 November 2011 at the Marina Bay Sands Expo and Convention Centre. The theme for the conference is Where New and Old World Orchids Meet. To commemorate this occasion, Singapore Post released five stamps and a special Collectors' sheet on 12 November 2011, which coincides with the opening ceremony.
This event is jointly organised by the National Parks Board (NParks) Singapore and the Orchid Society of South East Asia (OSSEA). Singapore is currently the only Asian city which is hosting the international event for a second time. The 4th World Orchid Conference was also held in Singapore in October 1963.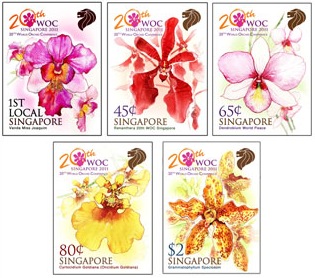 Featured on the stamps are five commonly known orchids. The Vanda Miss Joaquim (1st Local) is the national flower of Singapore. The Renanthera 20th WOC Singapore (45 cents) is the official flower of the event. The Dendrobium World Peace (65 cents) and Cyrtocidium Goldiana (80 cents) are cultivated in Singapore, where the latter is popularly known as the Golden Shower here. The $2 stamp portrays Grammatophyllum speciosum, or the Tiger Orchid, the largest orchid in the world.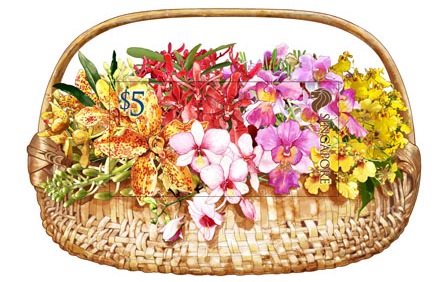 The Collectors' sheet contains a $5 stamp and features an assortment of orchid species and hybrids placed in a woven basket. It is sold for $8. The designer for the stamps is  Nicodemus Loh.
The orchids featured in the stamp issue are also showcased at the World Orchid Show. As part of the 20WOC, the orchid show features over 75 magnificent displays of orchid species and hybrids from 23 countries. These orchids are also found in the Singapore Botanic Gardens as well as the National Orchid Garden. The National Orchid Garden boasts some 600 orchid species and hybrids on three hectares of carefully landscaped slopes.
The 21st World Orchid Conference will be held in Johannesburg, South Africa in 2014.